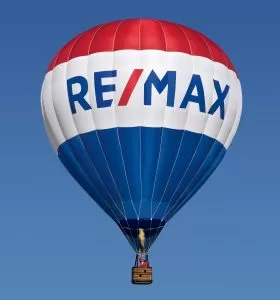 RE/MAX – You can't argue with success.
RE/MAX was founded in1973, in Denver Colorado by Dave Liniger. After serving in Vietnam, Dave worked as a real estate agent but quickly became dis-satisfied with the real estate industry around him. Believing there was a better way of doing real estate by better investing in the real estate agent, Dave founded RE/MAX, which are derived from the words "Real Estate and Maximums".
Dave Liniger's controversial idea was to build a real estate powerhouse where experienced, productive agents would keep more of their commissions and enjoy the freedom to run their businesses as they saw fit.
His business method, although controversial, was revolutionary and genius. His business philosophy of RE/MAX is that the agent is always the most important element of the business, as the best agents are those who bring the most customers.
Today, RE/MAX has more than 120,000 agents in over 100 countries and territories. It boasts of having the greatest footprint of any other real estate brand in the world.
The RE/MAX network in Israel, headed by Bernard Raskin, has been operating since 1995. In 1996 the first branch was opened in Raanana and today RE/Max has around 100 branches throughout Israel with over 1000 real estate agents.
Competition
Selling a home or an apartment in Israel, used to be regarded as something that did not require professional expertise. However, recently more and more people turn to professional real estate agents to assist them in the sales process for the following reasons:
The Israeli consumer has grown to appreciate professional expertise, understanding that there is allot of added value when buying with professional assistance.
Selling an apartment may prove to be a long and tedious process. With a professional real estate broker at your side, the seller saves valuable time and enjoys a much smoother sale process. While in Israel, besides RE/MAX, there are a number of other real estate brands together with many more independent agents, however, the main competitor to RE/MAX, is actually those individual sellers who sell their properties alone.
Marketing Challenges
During the past several years, the two major challenges which RE/MAX faces are:
Convey to the public the added value and advantages of real estate brokerage.
To persuade real estate agents that RE/MAX is the most attractive destination for them to work. The company's next goal is to double the number of its agents within the next 5 years.
Creative solutions
In order to cope with marketing challenges facing both the public and the real estate agents, RE/MAX Israel applies a variety of solutions and joint ventures, such as high-quality training for agents and franchisees given by expert lecturers from Israel and abroad. A substantial part of our advertising is focused on successful agents and brokers, such as our Golden Club Membership – an avenue which generates more exposure for our leading agents. In addition, the size of the network, 45 years of experience in the market in over 100 countries and territories, is not only a powerful marketing engine, but also a potential opportunity to increase your business. We believe that our past success, our vast "know-how" and the ability to use our internal referral system is also a huge advantage to our agents and franchisees.
In order to preserve the know-how and keep the high level of training, the company has a professional training team that, besides working with the agents and franchisees, regularly take part in international real estate conferences in order to remain up to date.
Our course – "Head Start in Business", is a six day program in which the agents study a variety of subjects. The course is open to all real estate agents – thus, very often, agents from other companies can also be found sitting among our RE/MAX agents. Every two weeks a new course commences and agents tend to take it for a second time after working for a few years in the field.
RE/MAX also offers its agents powerful tools such as an intranet website full of tutorials and videos, updates and information, as well as CRM software to assist manage their property portfolios.
In addition to the courses offered to the real estate agents, more "Added value" courses are given to the RE/MAX franchisees. These comprehensive courses are tailored to the franchisees' professional demands, which are totally different from those of real estate agents. The courses are based on the latest and best methodologies in the business such as teaching franchisees how to recruit agents and assist them achieve the best possible results. Franchisees also participate in 3 conferences every year in which the best real estate experts give lectures, and even RE/MAX members from abroad, present their success stories. Throughout the year, national RE/MAX conferences take place in order to improve the know-how and performance of the agents and franchisees.
In addition, the network also offers the franchisees a series of recorded lectures by the top real estate coach and speaker, Tom Ferry, who, together with other renowned expert lecturers have been invited to Israel to lecture franchisees and agents.
When it comes to marketing to end-clients, and in order to keep the brand on top of the customers' minds, RE/MAX Israel constantly invests in advertising and branding, in order to increase the visibility of the network. Part of its national advertising is to feature successful agents and franchisees, such as Golden Club members, which generates substantial exposure for our leading members. Our slogan is "Selling or buying a property? With RE/MAX – You can't argue with success". The network also advertises on social media and social networking, where our slogan is "We don't just happen to be number 1". The featured people in our campaigns are always the network's agents themselves.
Surveys prove that RE/MAX is highly recognized, even though it operates in a field in which customers make very few transactions. The internet site, with its dozens of dozens of languages, is visited by around 500,000 viewers a month! Besides the RE/MAX marketing and advertising, the highest level of marketing comes from the agents themselves who always follow through with their high level of professionalism, expertise and service with a smile.
Benefits of the RE/MAX franchise
At RE/MAX you are doing business for yourself but you are not alone!
Owning a franchise will continually yield revenue and returns, even when you are not present in the business.
RE/MAX Israel, offers you an attractive business model to fulfill your managerial potential in a professional and supportive environment, using the most progressive methods in the real estate market, with the aim of giving you the tools to establish a healthy, stable and flourishing business in a real estate market that is full of potential. Also, you don't necessarily require prior real estate knowledge to become a RE/MAX franchisee.
Service and tools that RE/MAX offers you
Every new franchisee takes part in 2 different courses:
"Head Start in Business". This course involves a program of six full days in which the Real Estate Agents are exposed to a vast number of subjects, and are given tools to maximize their business.
Expertise in becoming a RE/MAX franchisee, which is a full 12 day program that teaches the "know how" of opening a leading branch. After the training, every franchisee is accompanied by a RE/MAX mentor who advises and supports the franchisee during the opening of their branch, strengthening the foundation of the RE/MAX business principles and its operation.
Giving Back
RE/MAX agents and offices care about their communities. For example, the network stays in close contact with "Larger Than Life", a Charity that aims to improve the quality of life and wellbeing of children with cancer and their families. Besides actual donations, the network members also take part in their social events. Every year, network members join a specially organized train ride for the children, combined with clown shows and other activities.
RE/MAX also cooperates with "Asinu Esek" , an initiative which aims to help businesses who help young entrepreneurs lower their risks. Those businesses require marketing and selling skills, so RE/MAX tutors, give training and guidance to them via their 4 day courses.
Things worth knowing about RE/MAX
• RE/Max has over 5000 exclusive properties in its portfolio around Israel.
• The RE/MAX web site is visited around 500,000 times a month!
• The RE/MAX sites around the world are visited more than 2.5 million times a month!
• The properties on the RE/MAX web sites are translated to more than 40 languages.
• There are over 400 on-line training videos available on RE/MAX web sites.
• The RE/MAX real estate training school trains more than 600 students every year.
• 4 full-time real estate mentors escort the network members in lectures, courses and conferences.
• Network members volunteer and donate tens of thousands of Shekels to the "Larger Than Life" association every year.
• RE/Max real estate brokers in Israel only comprise 4% of all Real Estate brokers in Israel, but produce 25% of the real estate brokerage transactions of the Israeli market.
Notes:
*Statistics and Figures are from a survey performed in September 2018 by "New Wave", a Nielsen Alliance.
**The percentage of agents in RE/MAX was calculated by counting the RE/MAX agents and the number of valid licenses in Israel, as well as collecting information via the Israeli Tax Authorities.